Seven great ideas to help you set up your desk
Use these 7 Ideas for setting up your desk to keep it clean and organized, because a cluttered office desk can often lead to distractions, decreased efficiency, and increased stress, plus it can affect your mood and make you feel unmotivated.
It can lead to misplaced documents and valuable information, resulting in you taking longer than usual to complete your tasks. And, if that's not enough, your desk's poor condition will give a negative impression to visitors and reduce employee productivity.
A disorganized desk also contributes to your employees' impression of you. It could make you feel self-conscious, which could make it difficult for you to concentrate or make you feel stressed.
While finding time to clean and tidy your desk during your busy schedule can be challenging, maintaining a clean and organized desk is essential for productivity and efficiency. Plus, a clean and tidy workspace fosters a healthier environment where you can do your daily activities without worry.
Fortunately, there is the Service Providers Association, which offers a commercial cleaning services, you can trust to maintain the overall cleanliness of your office. However, for your workspace, you must take your initiative. This way, you have complete control over the aesthetics and organizational system.
Consequently, here are a few ideas that will help you spruce up your desk and create a conducive workspace that will allow you to maximize productivity without sacrificing valuable time. Take a look!
Install some shelves
The best thing you can do to organize your desk if you don't have a lot of space to work with is to install some shelves. You may be assigned a cubicle or a shared place if you work in an office.
The best solution here is to resort to desktop shelving, with two or three extra layers, with your desk as the bottom layer, which should be sufficient. On the other hand, if you work from home, you can install shelves above or next to your desk and place them against the wall.
It is entirely up to you what you should put on these shelves! You can use them for notebooks, file folders, printer paper, and pens. The key is to place them in accessible areas.
Keep decorative items away from the desk
Keeping your desk space free of unnecessary items is ideal for a smooth and efficient workflow. Place accessories and decorative items such as plants or picture frames elsewhere if you want to keep them. The shelves mentioned above are the perfect option for this. You can also try hanging some of your decorations if you are facing a wall.
Be aware that having too many decorations can be distracting rather than helpful, so be careful when choosing what to display.
Raise your monitor
Elevating your monitor or laptop is a solution if you don't have enough desk or shelf space. You can use a laptop stand, a monitor riser, or a monitor stand. Then, you can store files, folders, pencil cases, and other flat or thin items in the lower area.
As another benefit, elevating your laptop or monitor also places the screen at eye level. It decreases neck strain and promotes good posture.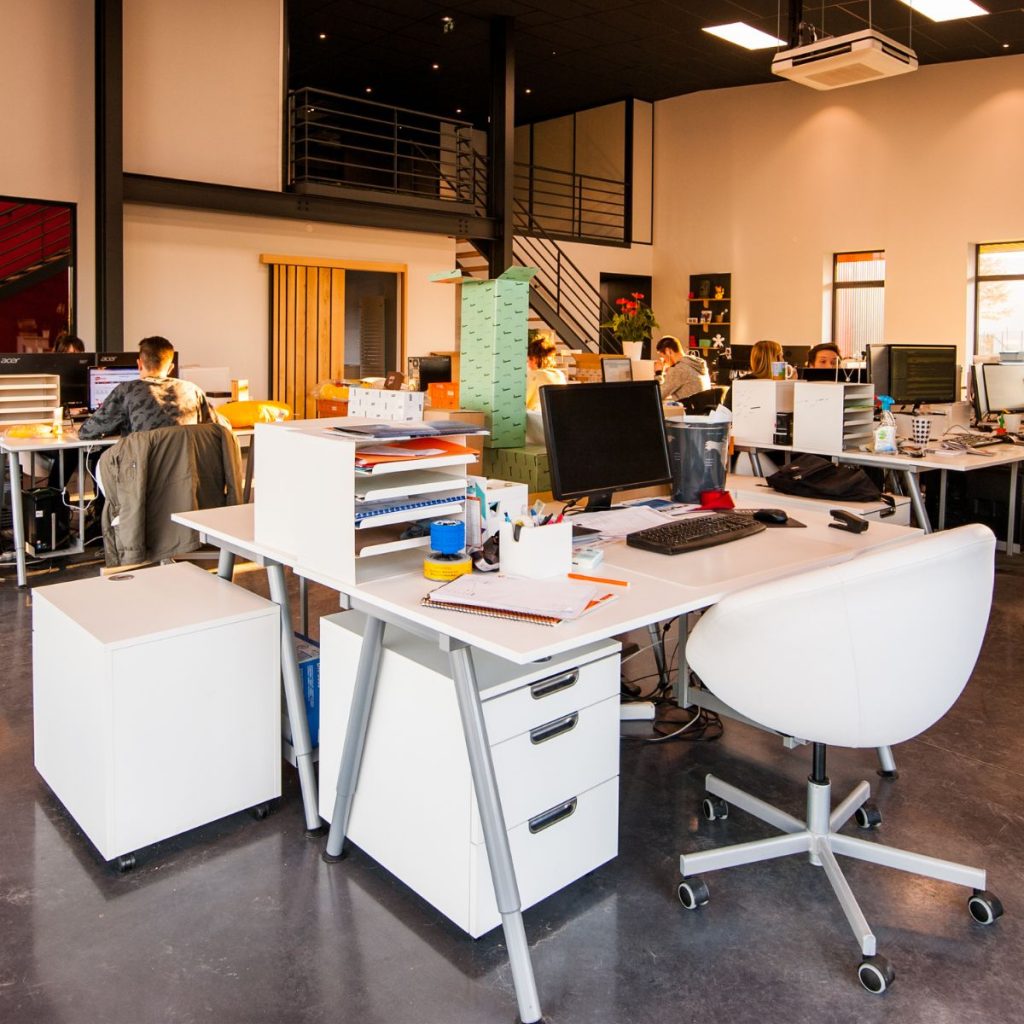 Use desk drawer dividers
Do you need to spend considerable time rummaging through your desk drawers to locate a single item? If so, then you need trays and drawer dividers to get organized. These organizational accessories help free up space in your desk drawers. You'll have more room to store small items such as paper clips, tacks, and related.
You can also organize your most used items at the top and less used items at the bottom for better results. You can also try hanging drawer dividers and trays that you can slide out for easy access.
Store items by type
Sorting items by type is another great way to organize your desk. Once you have your preferred organization and storage solutions, designate a space for the same or similar items.
For example, you can store printing paper, sticky notes, notebooks, and notepads together, while pencils, pens, markers, and highlighters can go in one holder. The same goes for cutting instruments such as scissors and box cutters.
You can look for storage solutions in designs and colors you like to make things more fun. You can get boxes, trays, and shelves in solid colors and customize them to your liking.
Use the space under your desk
Lastly, don't forget to use the space under your desk. This place is perfect for storing old documents or files for reference and items you use infrequently. In addition, you can store personal items in this area.
To store items under the desk, you can use boxes, which are the better options, but you can use baskets or carts on wheels. You can also choose a drawer with wheels and a lock to store valuables or private documents.
Clean up a little every day
Don't wait until you have a huge mess to take action. A cluttered desk can give customers and business associates a negative impression and reduce employee productivity.
Small steps like tidying up for 5 minutes daily or putting everything back in place after use can make all the difference at the end of the day. Another almost mandatory task to keep your desk in good shape is to tidy it up before leaving the office.
It is valuable to remember that there is no one right way to keep your desk clean and organized. It all depends on how you work and what you like to do. What is certain is that keeping an impeccable desk is the key to a productive work environment, a disinfecting services every so often is not a bad thing.
SPA, your best ally
Implementing these ideas to set up your desk increases productivity and establishes a more efficient and pleasant work environment. If your office is clean and tidy, your ability to complete tasks and confidently achieve all your professional goals will improve significantly.
However, we realize that cleaning and organizing can be time-consuming. If you want to concentrate on running your business, let the Service Providers Association take care of your workspace to be clean and productive! We have the best office cleaning services and the best-specialized team – Book with us!