One of the most common cleaning problems is to remove stubborn stains your carpets fast
Even if your business, office, or home is clean and looks perfect, a stained carpet can make the place look sloppy and dirty. Carpets provide warmth and comfort to our environments, however, they are the most exposed to receive stains, and with daily use they get stained and their original appearance is no longer the same.
For this reason, be sure to remove stubborn stains your carpets to make your environment look neat and renewed, as if you had hired commercial cleaning services in your office. How to do it? Is not a simple task, as some stains soak into the fibers more than others. Stain removal maintenance along with frequent vacuuming will be enough to keep your carpets looking like the first day.
Removing stubborn stains from the carpet requires immediate action to get them out as quickly as possible before they become permanent. In addition, determining the proper technique for the type of liquid spilled is critical to getting the best results. This is vital to save time, money, and effort in stain removal.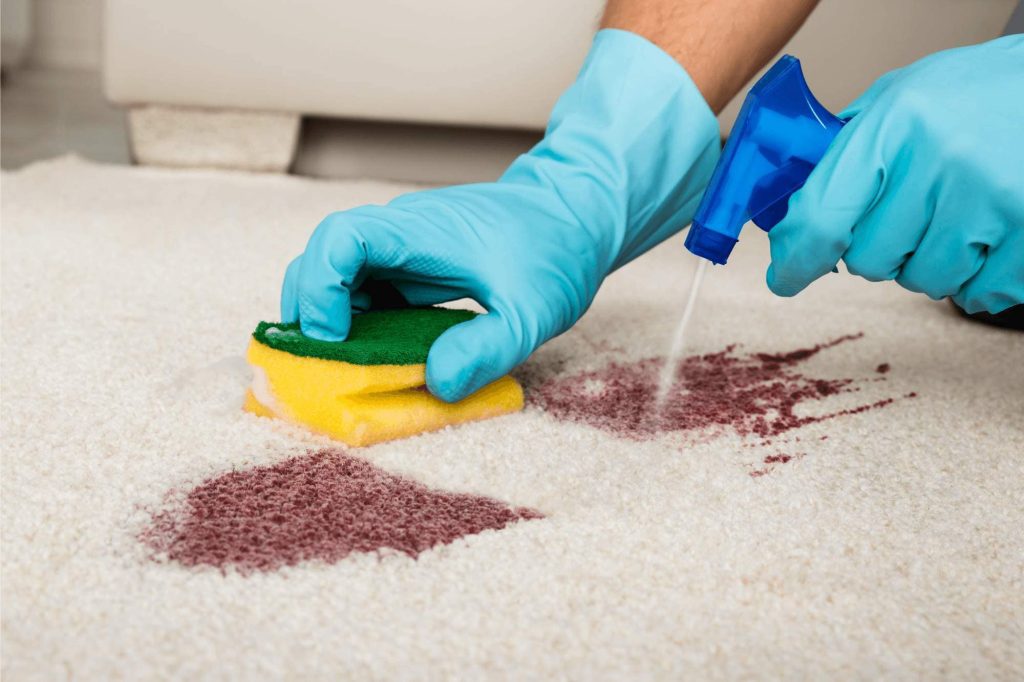 How to remove stubborn stains your carpets?
To remove stubborn stains your carpets correctly it is necessary to give specific care to each type. Today we will give you simple tricks with effective solutions to make your carpets look new again. You can even remove old stains from the carpet.
Quick action
This is, without a doubt, the best anti-stain trick. First, quickly remove spilled residues on the carpet with absorbent paper. Wipe from the edge to the center; never use a sponge that is too wet (it can make the stain spread further). Also, before using any stain remover, test it on a nonvisible area of the carpet.
Coffee, tea, or red wine stains
Removing these types of stains as soon as possible is essential to prevent them from soaking into the carpet, making them easier to eliminate. In the case of coffee, tea, or wine stains, the best way to remove them is simply to use water or natural products, including a mild detergent.
The cleaning process is simple, just place a cloth over the stain and press gently to absorb the excess liquid. Then, apply a mixture of hydrogen peroxide and baking soda on the stain, let it act for a few minutes, and rinse well.
Another option is to rub the stain with a mixture of white vinegar and laundry detergent. Leave it on for a few minutes and then wipe it off with a sponge. This mixture will remove the stain completely. After this process, clean the carpet as usual.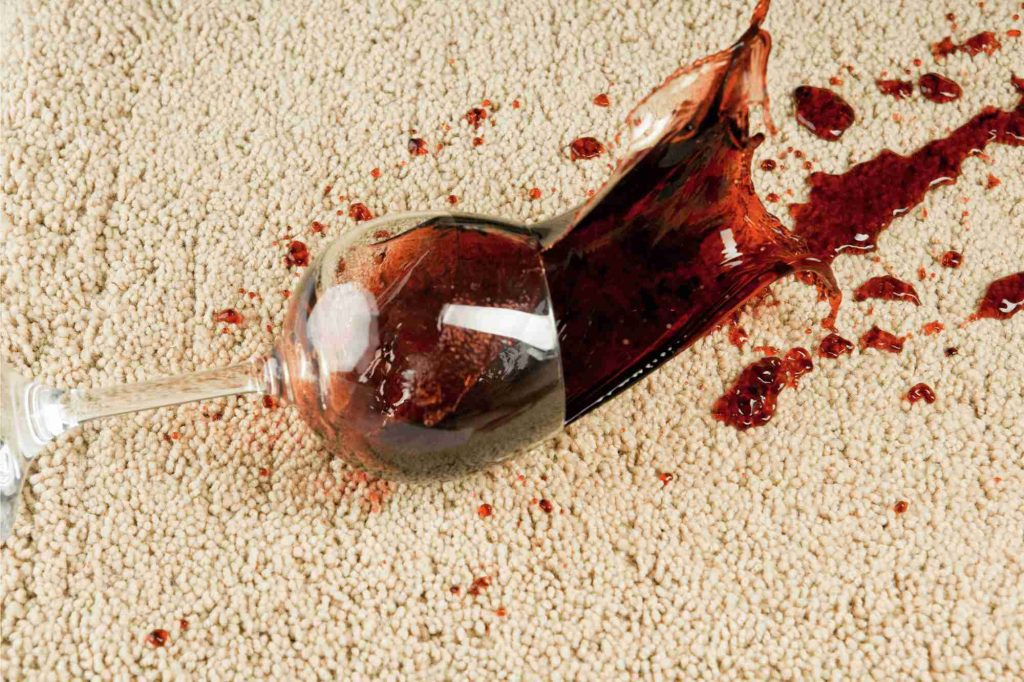 Pen ink stains
These are very common stains, especially in office areas. To remove them, the first thing to do is to remove the ink from the carpet with a dry cloth. Then, dampen a clean cloth with alcohol and press it on the stain. In this case, the alcohol will mix with the ink and, therefore, will make it easier to loosen it, making the stain disappear completely.
Another simple trick to get rid of this type of stain is to use salt. To do this, place a bit of salt on the stain and let it rest for several hours to absorb the ink. Then, use a vacuum cleaner to remove the salt that will drag the ink stain from your carpet with it.
Chewing gum stains
In commercial premises, stores, offices and buildings, it is common to find chewing gum stains on carpets. Never try to pull it out directly. To remove chewing gum quickly and effectively, it is best to purchase a special remover and apply it to the surface, leaving it there for a few minutes. Then, with a wooden element (what is this?), remove the chewing gum residue that may remain. Finally, proceed to clean the remaining stain and dry it with a clean cloth.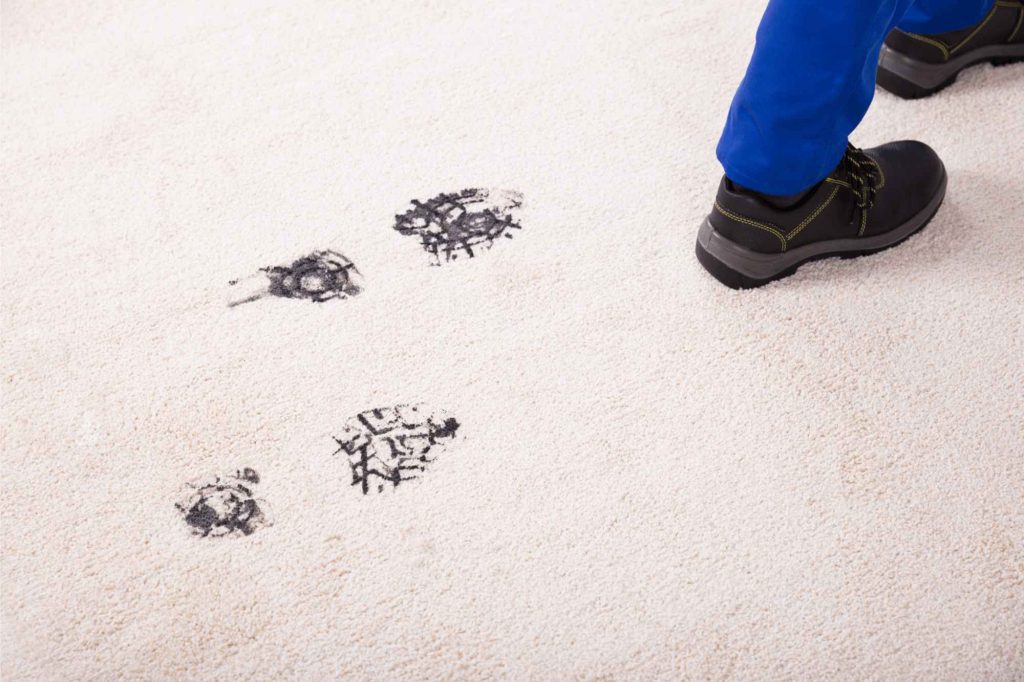 Oil stains
To effectively remove oil stains from your carpets, simply place absorbent paper over the stain and press continuously. Keep pressing until no more oil is absorbed. It is important to do this immediately when it happens to stop the oil from spreading.
Next, pour some rubbing alcohol and place a cloth over the stain to absorb the oil. If the stain does not come out completely, then you should sprinkle detergent with water and rinse the surface.
In the end, if you have very damaged carpets with stains of this type and you want to give them a deep restoration to avoid their replacement, we recommend you hire a Carpet Cleaning Service to save it from ending up in the garbage.