Some tips for cleaning public restrooms proper cleaning and optimize the hygiene of these areas and ensure the health of users
Follow these tips for cleaning public restrooms if you have a business. You should know that the opinions and comments of your customers can significantly affect your reputation. It just means that you must make an excellent impression on them, something you cannot do if your establishment has dirty and poorly maintained restrooms.
One of the best ways to ensure perfect sanitation of your restrooms is to hire a commercial cleaning services performed by expert cleaners. They have the knowledge and proper equipment to leave your facility perfectly clean and free of bacteria and germs. As a result, your users will be safe, healthy, and satisfied with their overall experience in your company.
Tips you can put into practice to get you started
But you can't leave it all to commercial cleaners. You can do countless things to keep your restrooms clean and disinfected for regular maintenance. Here are five simple but helpful tips you can put into practice to get you started:
Do not mix chemicals
When cleaning bathrooms and toilets, you may use different types of cleaners. Don't try to combine them to make them more effective. Mixing chemicals can lead to severe reactions that can cause skin lesions.
In addition, many chemicals tend to target only one type of material or surface, such as glass, porcelain, or marble. It means that mixing chemical solutions can cause irreparable damage.
The best and most desirable is to use only one chemical solution or cleaning product for the intended material or surface. Also, to get the best results and not waste any product, follow the using label instructions.
Use proper personal protective equipment
Before you or your janitorial staff starts cleaning the bathrooms and toilet, ensure you have the proper personal protective equipment. This way, everyone will be protected from exposure to cleaning agents and other potentially harmful chemicals capable of causing injuries and health problems.
The primary protective equipment for cleaning restrooms includes goggles, gloves, and a mask to protect the eyes, hands, and nose. Hair caps are also indispensable. After use, ensure to dispose of this equipment properly to avoid contamination.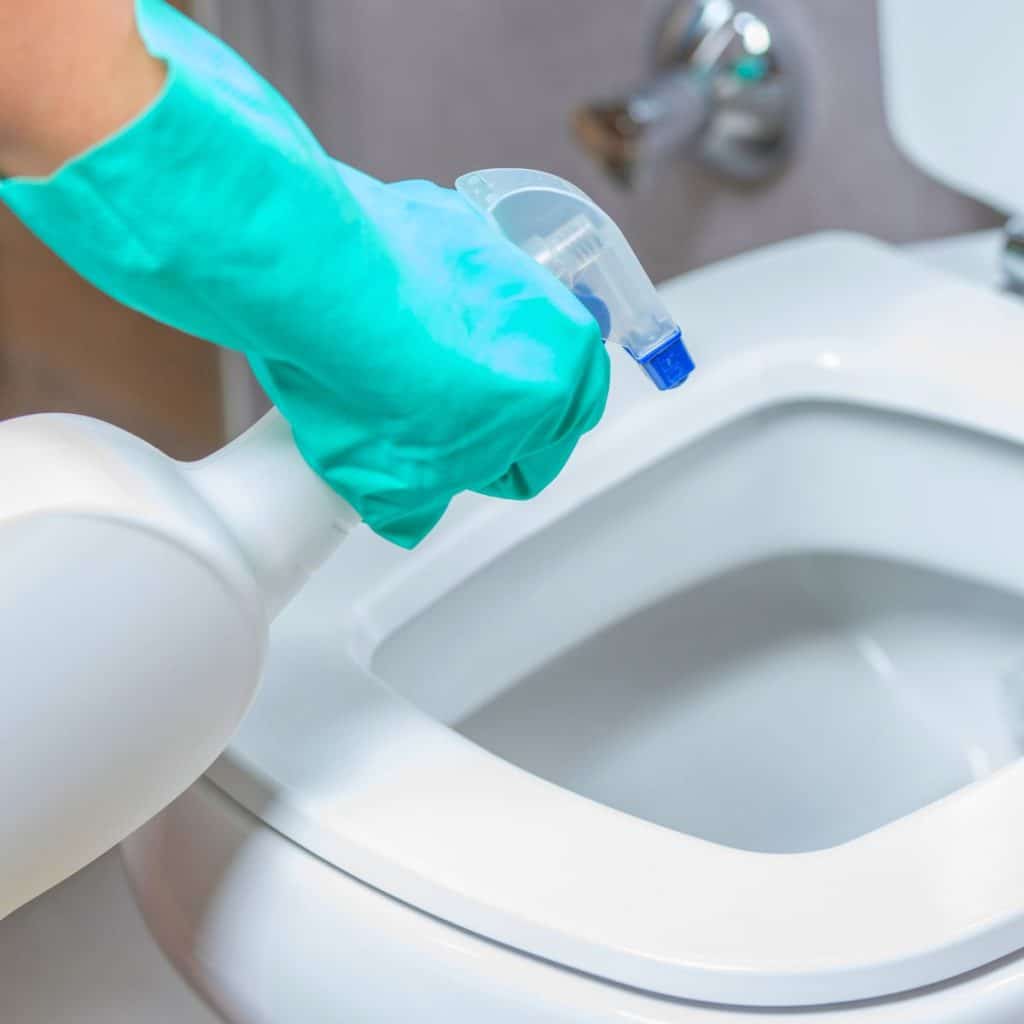 Pre-cleaning toilets and urinals
If you are trying to sanitize toilets and urinals thoroughly, the best thing to do is to pre-clean them. First, remove any residue in and around them, and then rinse. Then start cleaning little stains with an all-purpose cleaner.
Next, begin pre-sanitizing the urinals with your favorite cleaning product. Let the solution act for 10 to 20 minutes, following the instructions. If the toilets and urinals are dirty for a considerable time, you should let the product sit for a few more minutes.
Remember that if you are doing regular toilet maintenance, you will probably want to use an acid-free toilet cleaner. It is because there should be no buildup or stains on the toilets or urinals.
If, on the other hand, there is a lot of stubborn mineral buildup, rust, and other hard-to-remove stains, it's best to use an acid cleaner or, better yet, call in professional cleaners and hire a deep cleaning service.
It doesn't matter if you are in an office, one or more apartments; Service Providers Association even has experts in medical office cleaning service and other types of spaces.
Sanitize and disinfect high-touch areas
When cleaning bathrooms, you may focus on the floor, toilets, and urinals, as these are usually the dirtiest and smelliest parts of the restroom. You should also sanitize and disinfect high-touch areas because they can accumulate germs and become infectious agents (it is best to hire a disinfection services).
Primary areas for special attention include faucet handles, door handles, and soap dispenser levers. Focus on the surfaces of hand towels and toilet paper dispensers. It is also crucial to disinfect toilet handles or flush buttons, toilet seats, and lids. Finally, ensure to clean and disinfect mirrors, sinks, and countertops.
Properly clean your equipment
Follow our tips to cleaning public restrooms effectively, and to ensure proper restroom cleaning, you need the right cleaning tools. Essential equipment includes microfiber cloths and mops, mop containers, and squeegees. You should have a broom and dustpan exclusively for the bathroom as well.
After use, properly sanitize all tools to ensure maximum effectiveness. For example, clean microfiber cloths and mop heads separately and should not be softened, while mop heads should be washed and disinfected with detergent; replace them if they are too worn.
Another vital aspect of bathroom cleaning is to clean deeply from the walls to the exit door. It is the most effective cleaning method that avoids contaminating the areas you have already disinfected.
As you can see, it may be a bit tedious to do maintenance of spaces. However, it's well worth the effort to keep clean your business restrooms – remember, reputation is at stake!
But, if you don't have the time to do it, the best thing to do is hire a commercial cleaning company like Service Providers Association, which offers professional cleaning services that can keep your restrooms and the rest of your business spotless.
Don't forget that the safety and health of your customers come first, contact us!