Learn how to keep your commercial floors clean and shiny here
Working in a space with dirty, unkempt floors can be overwhelming. Plus, it can make a negative first impression on visitors. Commercial floors clean, for many, can be challenging, especially if your space has multiple types of floors in different locations.
Also, flooring often takes quite a bit of abuse. Food spills or mud can be the cause of flooring daily scratching. Therefore, they need extra attention to preserve their quality over time.
Fortunately, keeping floors clean and shiny in any space is not a difficult task for those who offer commercial or office cleaning services. Here are five simple tips for you to put into action and be dazzled by how shiny your floors will look:
Vacuum weekly
You may think that dust is just harmless dirt. However, dust can scratch your floors. Also, it can ruin the protective coating, resulting in a dull surface that deteriorates more easily. Health-wise, dust can also cause allergies.
For this reason, you must remove dust frequently. You can do this by vacuuming at least once a week. If possible, dust regularly in spaces such as living rooms and offices, where people gather and stay more frequently.
Use the right tools and cleaners
All floors are not the same, so use different tools and cleaners to keep them spotless, including stripping and waxing floors. Professional floor cleaners will know what to do, but by following the tips below, you too can do your maintenance:
Hardwood
Depending on the finish, you can use different cleaning methods on hardwood floors. Hardwood floors with a wax or untreated finish are not washable. Sweep, vacuum and dust mop them regularly. For polyurethane-finished, the best detergent to use is a pH-neutral soap. Soak a mop in the appropriate soap and water for cleaning, then wipe with a microfiber cloth to dry.
Laminate
The only maintenance that laminate floors require is periodic vacuuming. Dusting or mopping with a dry cloth is also very effective. Do not use soap-based cleaners or polishes, as these will dull your floors. Waxes are also not recommended, as they will make your floors too slippery.
If there are cumbersome stains to remove, you can use a slightly damp cloth but try not to get too wet so that water does not seep under the boards.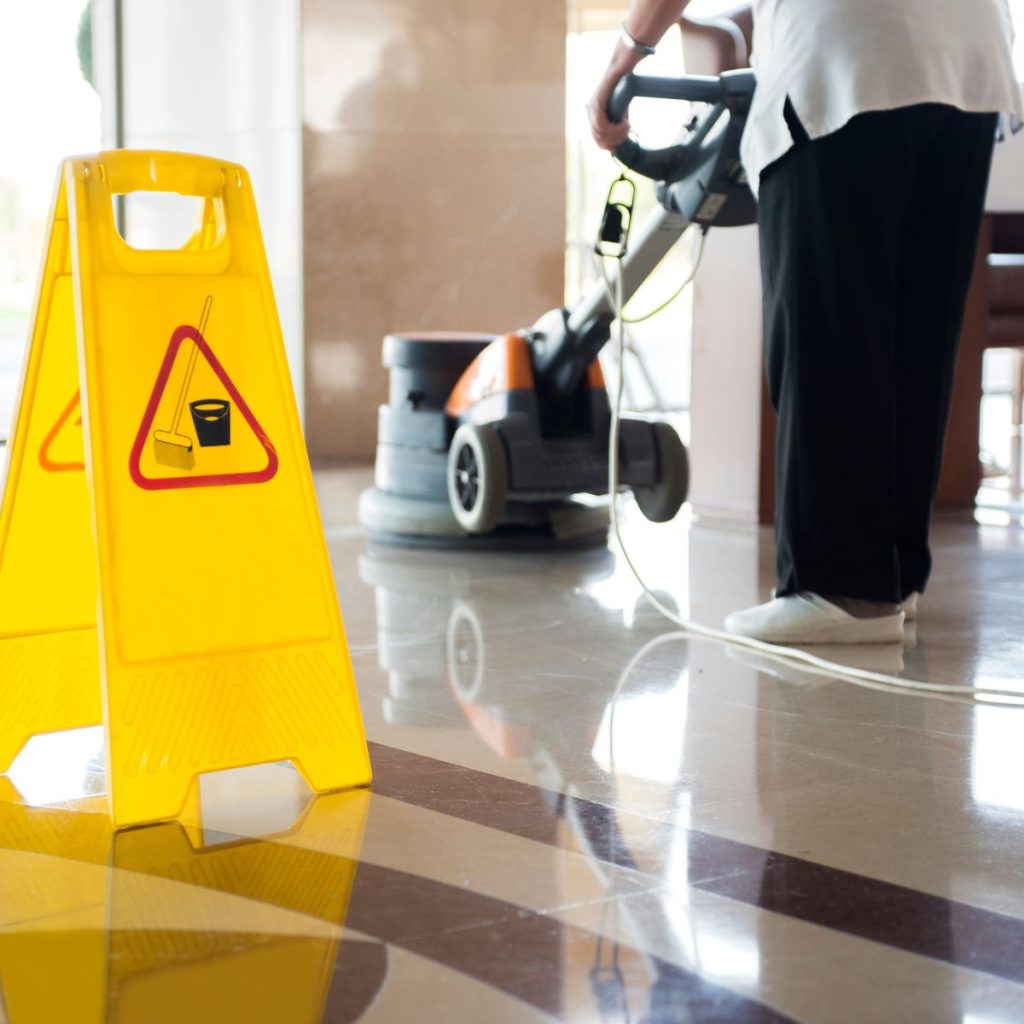 Vinyl
The best cleaning tool for keeping vinyl floors clear of dust is a soft bristle brush or a vacuum cleaner with a soft brush attachment. For thorough cleaning, use a mild detergent diluted with enough water. Impregnate a mop with this solution, then rinse with a cloth dampened only with water. When finished, be sure to dry thoroughly.
Tile
Tile floors are significantly resistant. If you need a quick clean, you can use a simple homemade solution of vinegar and dishwashing soap that works perfectly. Mix a few drops of dishwashing soap with 1/4 cup of white vinegar, pour the solution into a spray bottle, and then fill it with warm water. Spread the mixture on the floor and then use a mop to clean.
Linoleum
Ideally, to clean linoleum floors, use hot water and dishwashing soap. Spread the mixture on the floor and then mop or wipe several times. Subsequently, you can damp mop or scrub directly. Of course, rinse well to prevent it from sticking. For daily or weekly cleaning, sweeping or vacuuming will be sufficient to remove dust and other dirt.
Having mats at the entrances
In addition to bringing mud and dirt to your beautiful floors, your shoes can also track harmful bacteria. One of the easiest ways to keep grime out of your office is to place a mat or rug at each entrance so that dirt from outside is directly on the mat. It will also make the floor much easier to clean later.
Don't drag furniture
Dragging your furniture can cause damage, scratches, and dimples on your floors. So, instead of it, lift office furniture whenever possible. You can also buy anti-scratch pads for the legs of chairs, tables, and other furniture in uncarpeted areas.
Also, try placing thick rugs or mats under flower pots or other heavy objects. It will further reduce scratches that can dull and deteriorate your floors.
Hire a professional cleaning service
If you desire beauty and shine; but don't have the time or desire to clean your dirty floors yourself, the easiest way to maintain them is to hire a professional cleaning service to expertly clean and polish your floors.
It is crucial if you have particular floors (such as hardwood) that require special care. Your staff can clean and mop to your satisfaction, but nothing can beat the high quality they provide.
In short, keeping your floors clean and shiny doesn't have to be extremely overwhelming. By following these simple steps, you can make this task easier. But, if you prefer to leave it in the hands of professionals, contact the Service Providers Association.
We take care of cleaning floors and all types of commercial facilities. Book your cleaning service with us and let our professionals provide you with commercial cleaning services with a personal touch and say goodbye to dirty floors!