A clean, tidy and fresh common area in an apartment building gives a great first impression to tenants
To clean the common areas of a building, you should always be aware of several details and in this post we will show you what they are. Whether in apartment buildings or condominiums, they need to be neat, but we know that some spaces are used more often than others. The main entrance, lobby, and elevator cabs are high-traffic areas, and it's necessary to clean them at all times.
In addition, this proper procedure will pay off the quality of the tenant and condo owner. It will also keep spaces in good condition for many, many years to come. Don't let the quality of your building's common areas decline by not investing in ongoing cleaning and disinfection services.
Apartments and condominiums must maintain a clean and reputable image. Common areas can suffer from wear and tear over time. Heavy foot traffic can also soil carpets and wear out elevator cabs and lounge areas.
Implementing a cleaning plan that focuses on durability and maintenance, using the right cleaning products to remove dirt from carpets and add shine to these spaces, and giving your building a high-quality look and feel, are great solutions to this problem.
Here are some ways to clean common areas and keep your apartment building in the best possible shape.
Develop a cleaning plan regularly
A clean environment plays a vital role in the upstanding image of your building. The biggest mistake is allowing the common areas to become dirty by not performing recurring cleanings.
Foot traffic generates dust over time, and it will soil the hallways and even elevators. The easiest way to avoid this is to have a professional commercial cleaning service team show up on a regular schedule, either daily or weekly, to perform your cleaning jobs.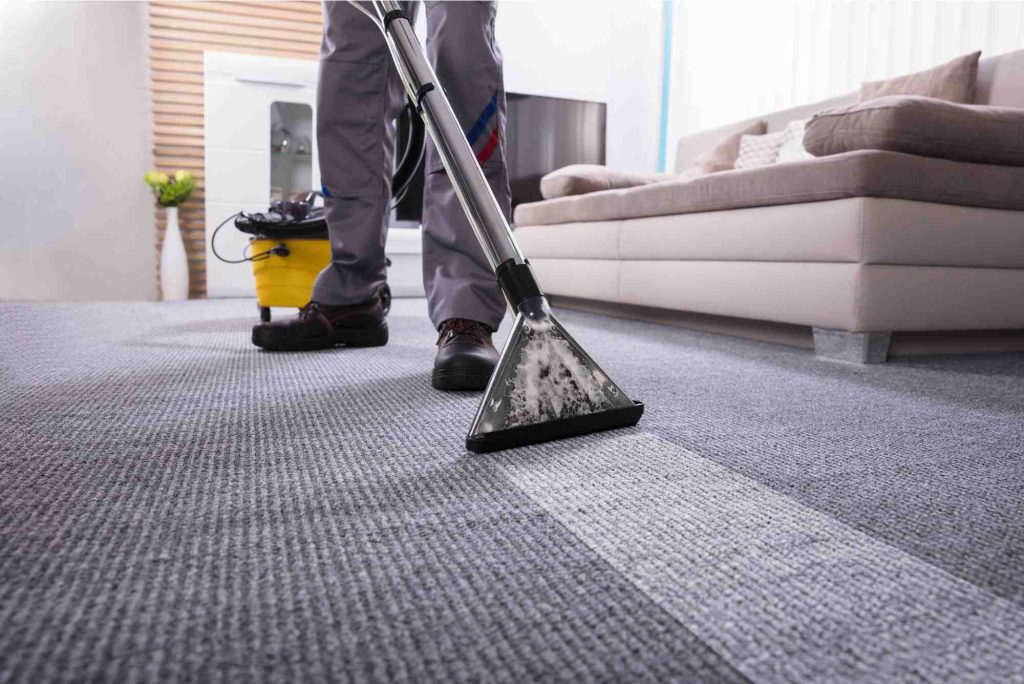 Common Area Floor and Carpet Cleaning
Floors and carpets are busy areas receiving a lot of foot traffic. Therefore, it is inevitable to have dirty floors and carpets all the time. But it is unacceptable to enter an apartment building with stained and sticky floors. Constantly dirty floors and carpets will have to be replaced sooner and cost you a lot of money.
– Floors: Your apartment may have hard surface flooring in the hallway and front common areas. These should be dry cleaned and mopped frequently and damp wet at least once a week.
In addition, these floors need to be polished and all stains removed. They will also need extra attention during humid and snowy times of the year. Constant cleaning of these surfaces is vital to reduce the slip and fall risk and provide an attractive appearance.
– Carpets: Rugs and carpets are present in common areas and lobbies. These should be vacuumed and cleaned promptly to remove stains. It is necessary to schedule a carpet cleaning service regularly. Or, pick up old carpets and replace them with new ones. Consider cleaning every day or even more than once a day.
Cleaning bathrooms
We have to clean bathroom areas regularly. Once a day may be sufficient due to the number of people who use these spaces daily. It is possible that a quick cleaning and emptying of the dumpster may be ideal for a daily touch-up.
Polishing stairs and elevators
The more floors your apartment building has, the more people will use the stairs to get around. It is essential to check these spaces frequently, perform mirror polishing, and disinfect doors and handles. It is also necessary to pick up trash and vacuum or sweep these spaces throughout the day.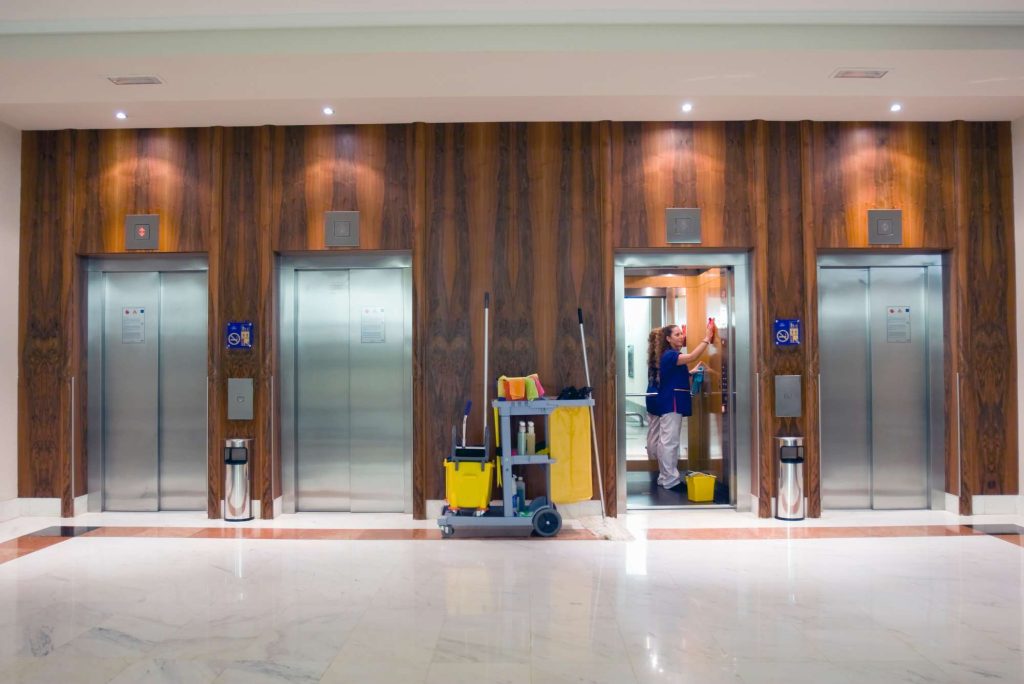 Lobby Desk
The reception area or lobby desk can be a place to collect all delivery boxes, documents, food, and equipment for both residents and building managers. It is a common area of your residential complex that apartment owners or tenants will often come to, waiting for a clean and organized appearance.
Therefore, a good disinfection of the desk space is necessary daily. Cleaning this area also involves keeping the lobby desk free of dust and debris.
Clean furniture and green areas
Ensure clean lobby furniture is frequently. Clean chairs and sofas with appropriate surface cleaners and try to remove new stains as quickly as possible. Chrome parts should be carefully polished and free of fingerprints. Treat tables with the same care as seats. Always pick up litter from the surface and vacuum as often as necessary.
The green areas around the building also need care. Keeping these areas clean gives a better first impression to tenants or guests when they move into your building. Make this space look more beautiful by planting flowers and cleaning the gutters.
Clean doors and windows
These surfaces of the common areas of your apartment building usually have a lot of dirt and fingerprints on them, regardless of whether it is dry or wet outside. For this reason, regular cleaning and polishing is a good idea.
Clean glass surfaces thoroughly at least weekly. It should also include window frames that tend to become dusty, door handles, and sill areas that can accumulate dirt.
Cleaning doors and windows allow more natural light to enter the common areas of your building. As a result, you can reduce the number of lights in the building and provide attractive overall cleanliness to the environment.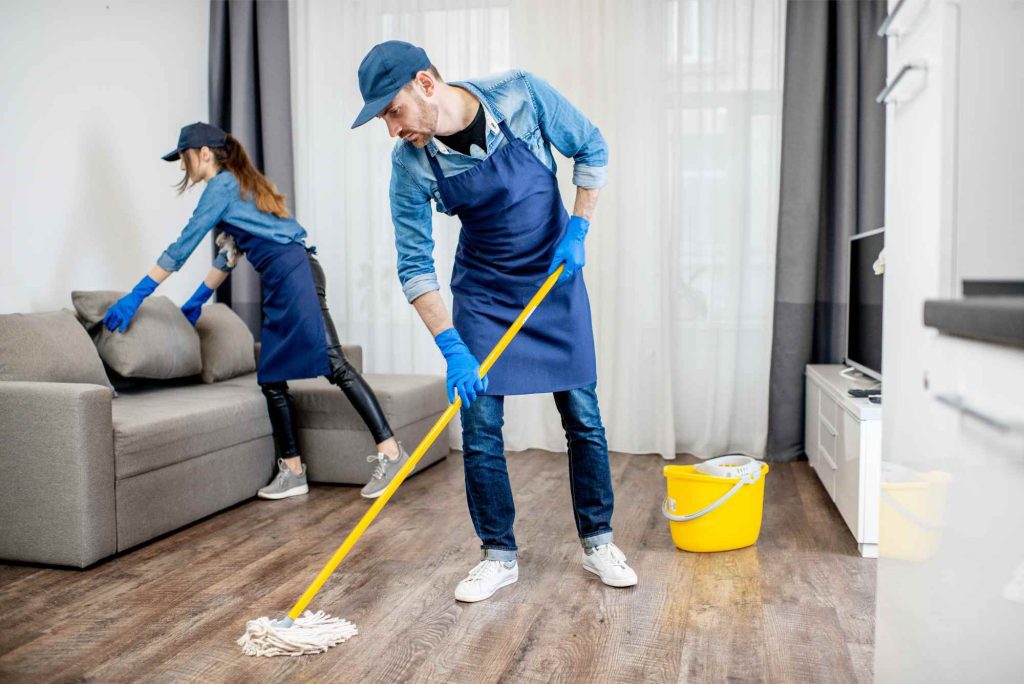 Hire commercial cleaning experts to clean the common areas of a building
An excellent way to keep the common areas of your apartment building always clean and fresh is to hire a commercial cleaning company to do the job. At Service Providers Association, we offer a professional apartment cleaning service to help you clean different areas, especially in hallways, stairways, elevators, living rooms, and reception areas. Always leave them spotless and disinfected.
Learn more about our commercial cleaning services for all common areas of your apartment building. Our professional cleaning staff will be happy to clean for you.
Contact us on our website to get answers to your questions.
Schedule your cleaning appointment today!
Now that you know about a few ways to clean the common areas of your apartment building, we hope you can keep these spaces clean and tidy, from the front door entrance to the lobby areas.
These areas of residential complexes receive a lot of foot traffic, and it is essential to keep the building clean. It will positively impact tenant satisfaction and also keep these areas in top condition at all times.